DO YOU LEAK URINE UNEXPECTEDLY?
Urinary incontinence is unintentional leakage of urine.  With the condition affecting ∼160 million women across the world, it should come as no surprise that an industry worth billions of dollars thrives on the back of this condition. In 2015, incontinence pads alone generated 8 billion dollars in revenue.
If you are suffering this condition, the cost of the products to manage the condition pales in significance compared to the impact on your quality of life. Therefore, we have established this knowledge portal to help you unearth the root cause of your issues thus empowering you to heal.
In order to understand urinary incontinence, we need to first understand continence which is your ability to hold your pee. To understand continence, we need to explore the natural cycle that takes place regarding urination. You don't need to understand the anatomy of the urinary system in detail, however, it is good to have a basic understanding of where things are and how everything works together. Having this information will help you to identify the root cause of your issues.
WHAT IS THE URINARY SYSTEM?
The urinary system, as shown in the image, is the system in your body responsible for urination. Your kidneys are responsible for producing urine. The amount of urine you produce depends on how much you eat, drink and sweat. Urine is transported to your bladder through a tube called the Ureter. Your bladder is a small sack that holds the urine, which is comprised of smooth muscle called the detrusor. The bladder acts like a balloon that expands when filling. At the neck of the bladder, you have your internal urethral sphincter, which is also composed of smooth muscle fibres. Your urethra is a small tube that leads from your bladder to the outside world. Your external urethral sphincter is located at the end of your urethra and is responsible for holding in your urine.
HOW DOES THE LOWER URINARY SYSTEM WORK?
The workings of the lower urinary system (Bladder down) can be simplified into two stages – the storage stage and the emptying stage. These stages are broken into four steps, all of which utilise the nervous system to send signals back and forth through your spinal cord to your brain. We show a number of different nerves in the image.  The parasympathetic and sympathetic nerves belong to your autonomic nervous system, meaning they are not under your conscious control. The Pudendal nerves are part of your somatic nervous system meaning they are under your conscious control.
WHAT ROLE DO YOU NERVES PLAY?
The sympathetic nerves (not under your conscious control) connect to your bladder muscle and internal urethral sphincter. They have stretch receptors and are sensing the amount of urine in your bladder as it expands. When your bladder has around 250ml (half full), they send a signal to your brain which triggers the guarding reflex. The guarding reflex sends signals to your external urethral sphincter to produce a stronger contraction.  The more urine you have in your bladder, the stronger this contraction. Meanwhile, these same nerves keep your bladder muscle relaxed and your internal sphincter is contracted. This ensures that you maintain continence while your bladder is filling. You will feel a slight urge to urinate when the guarding reflex is activated.
YOUR BLADDER IS FULL, NOW WHAT?
When your bladder is full, the urge to urinate becomes strong. This is typically when your bladder has between 300 and 400 ml of urine. This triggers the micturition reflex. The parasympathetic nerves then contract the upper part of your bladder while relaxing your internal sphincter.  At this point, your external urethral sphincter is preventing urine from leaving the urethra. When you relax your external urethral sphincter, the urine will then exit your urethra.
The reflexes and urges felt are there from birth. In babies, the bladder fills and empties instinctively.  Potty-training teaches infants to become aware of the bladder signals, in particular the urge to urinate and micturition reflex. They utilise the voluntary control of the external urethral sphincter to hold it closed until a toilet is found. This whole process is a beautifully synchronised dance between voluntary and involuntary control over organs and muscles.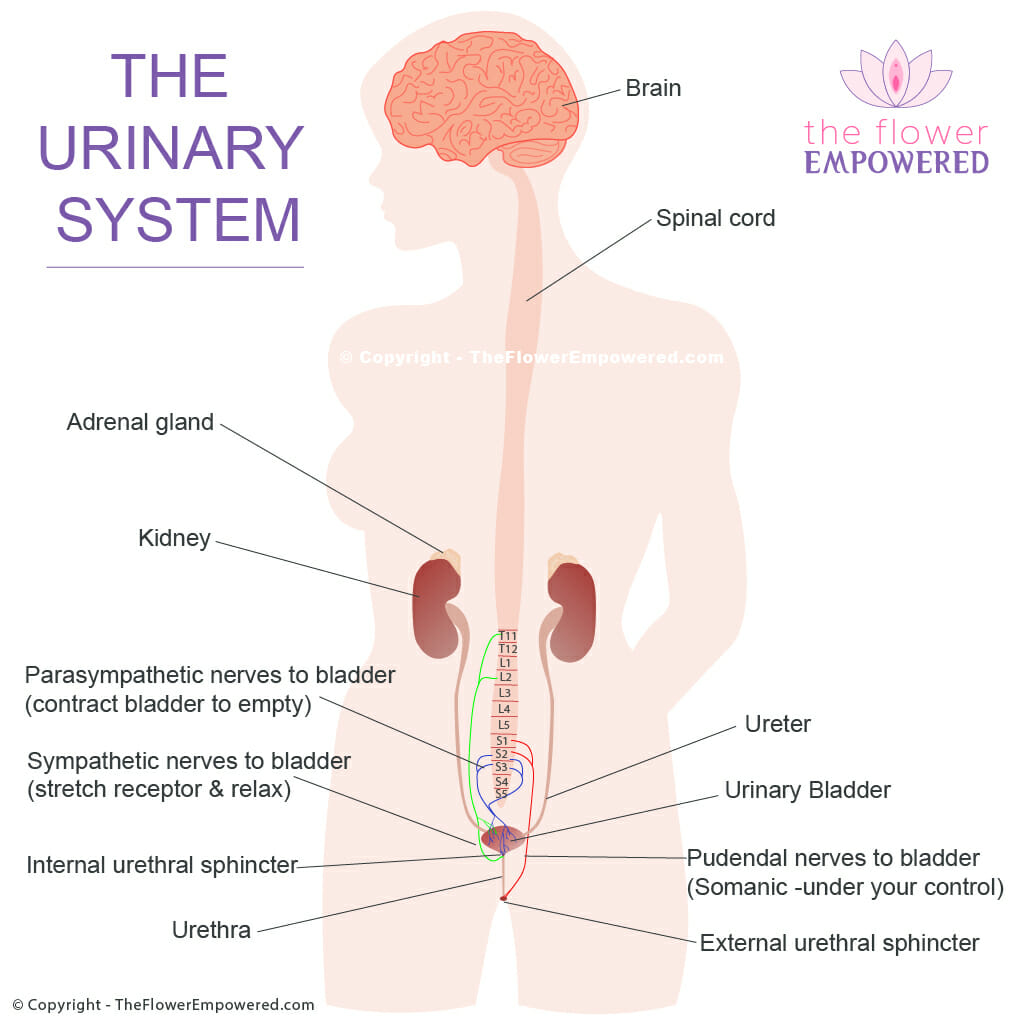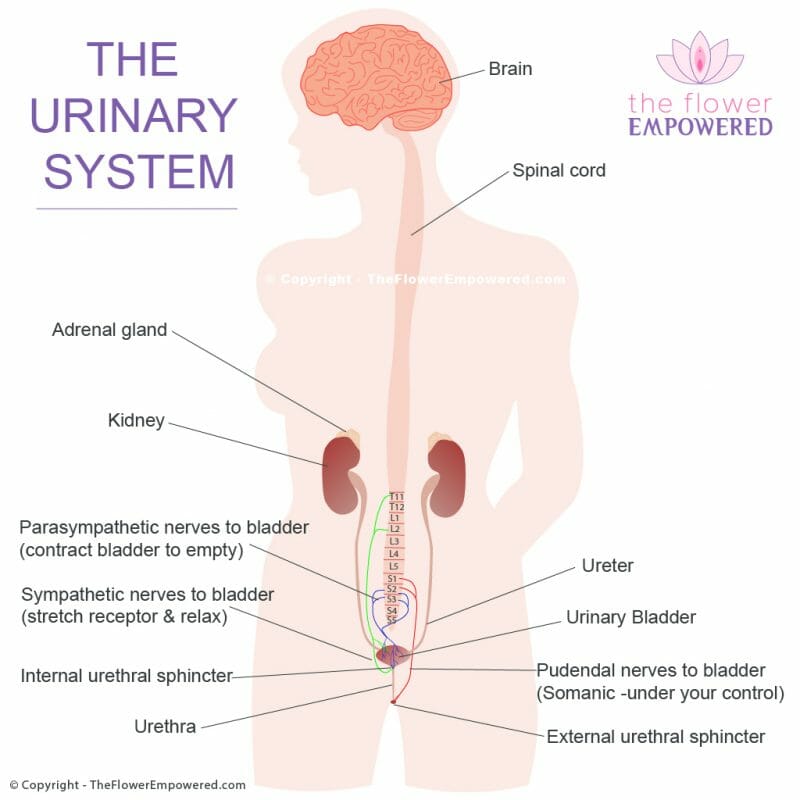 WHAT IS URINARY INCONTINENCE?
Urinary incontinence is the unintentional leakage of urine. For some reason, urination is happening when we are not sitting on the toilet. This can be a few drops that leak out with a cough or a sneeze, or it can be a full emptying of the bladder without even feeling an urge. That's right, there are are multiple forms of urinary incontinence. Furthermore, the causes of incontinence are varied and not always clear. Through the next section, we will attempt to explain the various forms of incontinence providing some insight into the potential causes.
WHERE CAN I FIND SPECIALIST HELP?
Our global specialist database is packed with pelvic health professionals from 48 different countries. You can search for a specialist near you. We are constantly updating this database and hope to see it grow to ensure that every woman can find help nearby. You can also join the community where we discuss topics that are very relevant to pelvic health.
Register
ARE YOU INTERESTED IN LEARNING MORE?
If you found the information on this page useful and would like to learn more, please register your interest in my upcoming book, The Flower Empowered. The book offers a whole mind, whole body, whole life approach to rehabilitation. You will find details on how to perform a baseline assessment prior to beginning your rehabilitation. The book offers advice and goals to help to define goals that are specific to you. Training programs in the book offer varied levels of training and provides tips and tricks to optimise your potential for success. I look forward to sharing it with you!
Denise
Register