WHAT IS MIXED URINARY INCONTINENCE (MUI)?
Mixed incontinence is when you experience the symptoms of stress urinary incontinence (SUI) combined with symptoms of overactive bladder (OAB). The OAB symptoms in mixed incontinence are typically frequency (needing to pee a lot), urgency (sudden need to urinate) or a combination of the two. You will find more information on those conditions on the pages for SUI and OAB. On this page, we will focus on considerations specific to mixed incontinence.
HOW CAN I KNOW THE SEVERITY OF MY MIXED URINARY INCONTINENCE?
With mixed urinary incontinence, the amount of leakage can vary greatly. Anything from a few drops to soaking through your clothing and down to the floor. Studies have shown the Sandvik test to be a good measure of the severity of your incontinence. We have created an online version of the Sandvik test to help you determine your level of incontinence.  Minimum score 0, maximum score 12. A higher score indicates a higher degree of incontinence.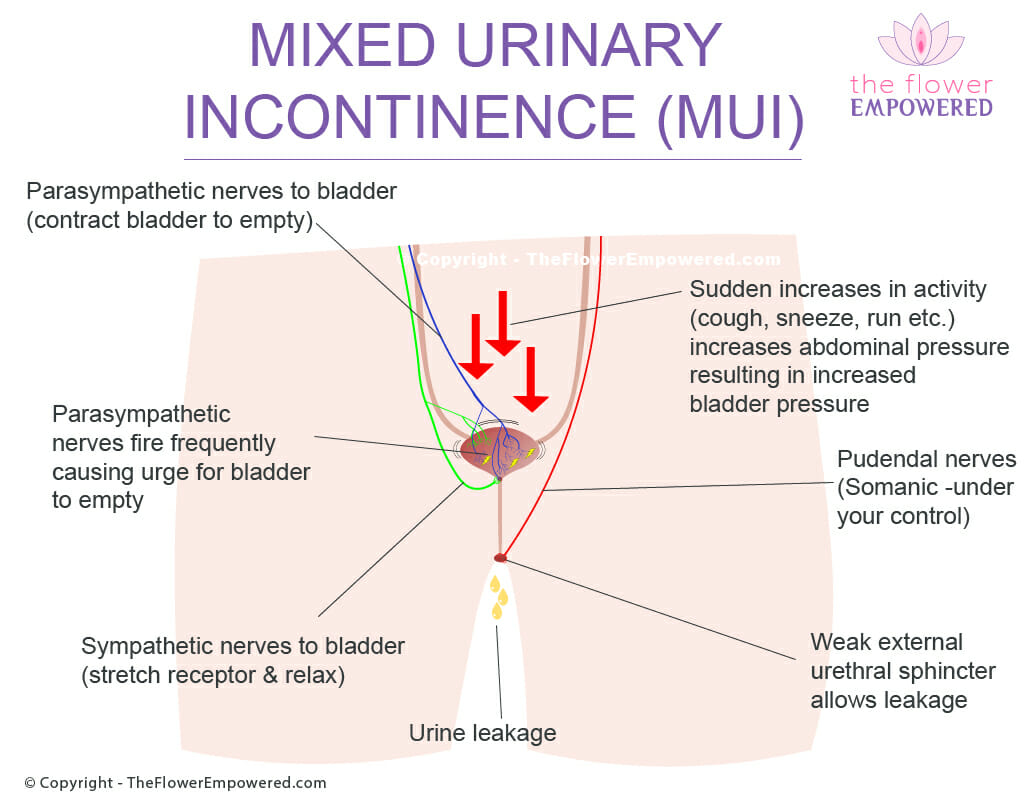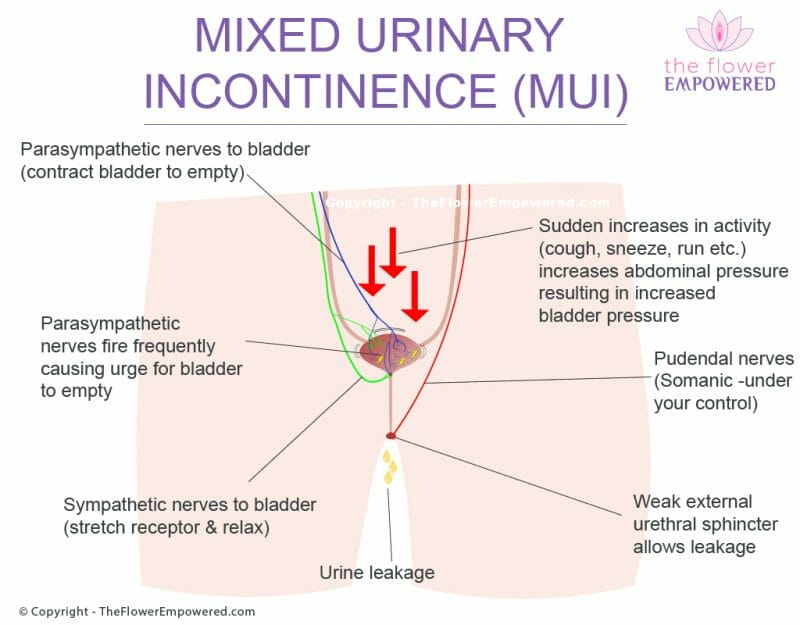 HOW IS MIXED URINARY INCONTINENCE DIFFERENT FROM SUI AND OAB?
Mixed urinary incontinence symptoms are a combination of stress incontinence (leakage during activity) and urge/frequency symptoms of overactive bladder. Oftentimes, mixed incontinence is a result of "Just incase" peeing (JIC). When you suffer from stress incontinence, you have a tendency to urinate before leaving the house and immediately on arriving to your destination. This is due to the fear of leakage. By JIC peeing, you negatively reprogram your bladder to think that it is full when in reality, it contains a small amount of urine. Over time, this leads to the symptoms of overactive bladder. You can read more about negative bladder programming on the OAB page.
HOW IS MIXED URINARY INCONTINENCE TREATED?
When suffering from mixed urinary incontinence symptoms, your treatment will be similar to that of overactive bladder but with a strong emphasis on pelvic floor muscle training (PFMT). Studies show that women with weaker pelvic floor muscles show the greatest percentage improvement when undertaking PFMT. Consistency is key, both with your bladder training and your pelvic floor muscle training (PFMT). Increasing the strength of your external urethral sphincter has the added benefit of enhancing the guarding reflex thus helping to reduce your symptoms of urgency. Your pelvic floor physiotherapist and urologist can help you to set goals that are achievable.
MY DOCTOR HAS RECOMMEND SURGERY, WHAT DO I NEED TO KNOW?
Surgery is the most invasive form of treatment for urinary incontinence and should only ever be used as a last resort. You should have tried conservative treatments for at least one year before considering surgery, unless there is some other medical reason for needing surgery. Please read through all the information on treatments for SUI and OAB and try the conservative treatments before making a decision on surgery. It has been my experience that small changes in lifestyle and consistent focus on bladder training and pelvic floor muscle training can produce fantastic results culminating in a dramatic improvement in quality of life.
Register
ARE YOU INTERESTED IN LEARNING MORE?
I hope that you have learned something through the information on this page. Knowledge on these matters help us to understand the conditions that impact our lives and empower us to make changes that lead to healing.
If you are interested in finding out more about optimising your pelvic health, you can register your interest the book; The Flower Empowered. The book offers my whole mind, whole body, whole life approach to rehabilitation. I explain how I cured my mixed incontinence over 18 months. I share the system I created to help  define personalised goals. The training programs have been designed for every level and I include many life hacks to optimise your potential for success. I look forward to sharing it with you!
Denise
Register